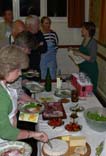 Making your own bread is very satisfying but starting with just a recipe is not easy. Seeing and feeling for yourself what is required at every stage of the process takes the mystery out of it.
Participants make a small loaf each of white and wholemeal bread. The aim is to get a feel (literally) for what is required at the different stages of bread making and to experience the difference in flours. Each stage of the process in explained and the properties of various ingredients discussed. There is plenty of time for questions and everyone takes their own bread home along with course notes and a basic recipe to make bread at home.
All materials and ingredients will be provided and no previous experience is required for this workshop.